I've been at a "football watching party" at my friend's house. Sometimes I'm at a bar watching football. I've witnessed it live from within the confines of a stadium, even. Regardless of where I'm watching an NFL game, I've seen the scenario one-too-many times. A receiver goes to grab a pass and upon returning to the ground from his acrobatic feat, and takes a hit from a defender that makes me cringe. I wait for the receiver to get back on his feet. Sometimes after a hit of that magnitude, he's a little slow to rise. But this time it's different. This event is comparable to one of those dreaded instances in the past, where 15 or 20 seconds have passed, and he's still laying face-down, motionless on the field. Might he have suffered a concussion? The training staff runs out to aid the fallen athlete. Thirty seconds have passed, and still he's lying motionless on the field. Next the motorized cart enters the field where the trainers are now stabilizing the player before transporting him somewhere inside the bowels of the stadium for further examination. While he's transported off the field, I wait for a thumbs-up or some type of signal from the player that indicates he's all right. Sometimes I receive that indication; other times I'm left to wonder if I'll ever see one of the best players of the game return to the field of play again, while also wondering what emotions his family must be experiencing at this time.
The question though is whether or not the NFL is doing enough to protect its players from concussions? I don't believe the NFL is doing everything within its power to limit concussions for a variety of reasons. To begin, the NFL doesn't mandate a specific period of time from when a player suffers a concussion; to when the player may return to the field. Second, the league has allowed players the option of using a second brand of helmet manufactured by Schutt, or they may use the Riddell brand of helmet, which has been used by the league for well over 40 years. Next, I do believe players feel severely pressured to perform via their own competitive nature, coaches coaxing, and for the threat of losing their position with a team, even when under such post-concussion stress! Finally, there should be a minimum of two non-team-affiliated experts who should evaluate whether a player is fit to return to the game yet or not. Currently the NFL's policy is for the team physician, or a team-appointed doctor and one non-team-affiliated expert chosen by the athlete, to evaluate whether or not a he may return to the game.
To begin, there is no specific point of time from when a player suffers a concussion to when he may return to the field of play. Right now a player's return to the game is dependent on when a team-appointed medical professional evaluates the player and gives his clearance. However, the player must still seek the opinion of a medical professional not affiliated with the team. This process can take anywhere from a couple of days to close to a week. During this time the player is not allowed to practice or participate in team activities. Most times a player is cleared to participate within a matter of days. Sometimes it's after a moderate-to-severe concussion. This is why the league should impose a minimum amount of time set forth for any player who has suffered a concussion. A week or 10 days should be within reason to allow the team's training staff and specialists to monitor the athlete's progress before engaging in the same activity which exposed his brain to such trauma. In addition to the amount of time the player misses per the requirement, it will also mean he misses the following game, which is critical in making sure there are no setbacks in the player's recovery ("Mouth").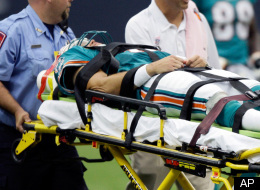 To date, the league has instituted more strict policies, but it's been more of a formality, as if to say "See? We care about our players." A poster indicating to players signs of a concussion and what said player should do if he feels he has suffered a concussion hang in every team's locker room. However the emphasis on players to play through injury is still there, even though it is masked with a poster telling how to identify symptoms of a concussion. This seems like a superficial way to address a problem as serious as this. (Quinn).
Next is the type of helmets the NFL is using, which doesn't seem to aid in the prevention of concussions. Researching 40 years of history, I've rarely read the gruesome stories of a player who is using a Riddell-manufactured helmet, suffering from a concussion. Riddell manufactures a product superior to Schutt's ("Research"). Now however, the NFL is also allowing its players a choice of wearing Schutt's helmet or Riddell's helmet. The Schutt brand is alleged to meet the same safety specifications and standards as Riddell's helmets are. However, the specifications are based on helmet-to-helmet impact of the same brand, and not from two different brands of helmet. Just about every week, multiple players are removed from games after suffering concussions. In the first week of the 2010 NFL regular season, four players on three teams were diagnosed with a concussion: Carolina Panthers quarterback Matt Moore, Philadelphia Eagles quarterback Kevin Kolb, linebacker Stewart Bradley, and New York Giants tight end Kevin Boss. As recently as the fourth week of the regular season, Philadelphia Eagles cornerback Asante Samuel suffered a severe concussion, which has ruled him out of play for at least a couple weeks. All were wearing helmets manufactured by Schutt.
Finally, there should be more than one outside expert being consulted when deciding if an athlete is cleared to return to the field. There should be a minimum of two outside experts' opinions. When taking matters of the brain into consideration, a team-appointed specialist and one specialist unaffiliated with the team shouldn't be the only two whose opinions are consulted. There should be at least one more professional whose opinion is considered before a player is allowed to return to the field. It is proven that concussions have led down a dark path of depression, early onset of Alzheimer's disease, and even suicide ("Is").
Those who oppose my view are many. From their perspective, football is a contact sport which harbors the possibility of such dangers of which athletes are aware. While they too might feel that the NFL could do a little more, there is no way to completely rule concussions and injury out of football. I am still in disagreement. The NFL needs to institute stricter policies that forbid team owners and head coaches from threatening a player that he will lose his job because of a matter as serious as injury to his brain. Insinuating to a player that his job is on the line even though he has sustained a concussion is nothing short of despicable. Even more despicable is that athletes in the NFL are regarded merely as property by team owners and front offices. The NFL combine has even been compared to as a "meat market!" The NFL must protect its players from their owners and from themselves.
In conclusion, it's time for the NFL to enforce a moral code; NFL owners should treat their employees with the respect and dignity any human being should be given. An athlete is more than a dollar sign and should be valued as such; he is more than a piece of meat.
"Is the NFL Doing Enough About Player Concussions? - Greta Van Susteren | On The Record With Greta - FOXNews.com." FOXNews.com - Breaking News | Latest News | Current News. 13 Dec. 2009. Web. 28 Sept. 2010. <http://foxnews.com/story/0,2933,580120,00.html>.
"Mouth Guards Protect More Than Just Your Teeth -- NASHVILLE, Tenn., Sept. 28 /PRNewswire/." PR Newswire: Press Release Distribution, Targeting, Monitoring and Marketing. Web. 05 Oct. 2010. <http://www.prnewswire.com/news-releases/mouth-guards-protect-more-than-just-your-teeth-103941068.html>.
Quinn, Elizabeth. "N.F.L. to Post Concussion Warning Posters in Locker Rooms." Sports Medicine, Sports Performance, Sports Injury - Information About Sports Injuries and Workouts for Athletes. 28 July 2010. Web. 28 Sept. 2010. <http://sportsmedicine.about.com/b/2010/07/28/n-f-l-to-post-concussion-warning-posters-in-locker-rooms.htm>.
"Research Shows Riddell Revolution Football Helmet Provides Better Protection Against Concussions." Daily News from the News Experts at NewsBlaze. N.p., 09 Jan. 2006. Web. 12 Oct. 2010. <http://newsblaze.com/story/2006010906001600010.mwir/topstory.html>.